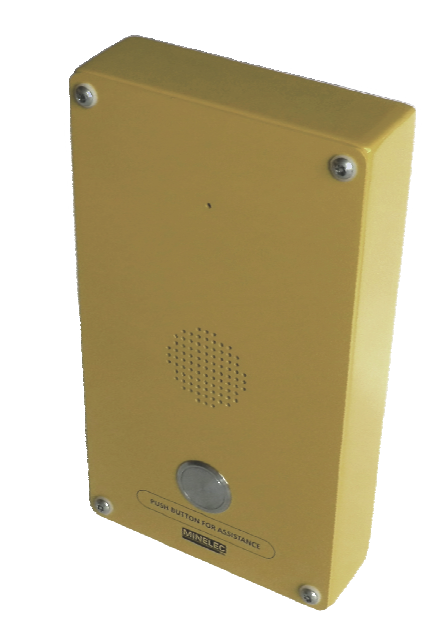 The new Minelec M61‐962 Series Phon‐Com unit provides a robust, vandal resistant communication assembly that is suitable for installation in public areas. The unit is fully rust resistant and as standard incorporates a surface mount back box or is available with custom metal work in stainless steel or aluminum to suit various installation scenarios and requirements.
The unit is supplied in yellow with standard operational graphics, but can be supplied to suit end user corporate signage standards and colours.
Each Phon‐Com is connected to the M51‐691 series Minelec Phon‐Com Commander via a standard Cat5/6 cable and allows handsfree communication between the Phon‐Com unit and an on and/or off‐site telephone user once the pushbutton has been pressed. Up to 20 Phon‐Com units can be connected to a single Phon‐Com Commander and various options including voice annunciation are available to identify exact location of call when only one phone line is utilized.
The standard back box and face plate (Safety Yellow as standard) is made of #14AWG Aluminum and provides a distinctive, high profile Panic Intercom Call box. The unit includes tamper hardware and is fully rust resistant. Variations of the Phon‐Com assembly are available to meet many applications including TSSA (ASME A17.1‐ 2010/CSA B44‐10) compliant In‐Elevator assemblies.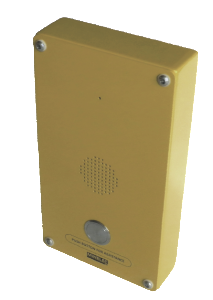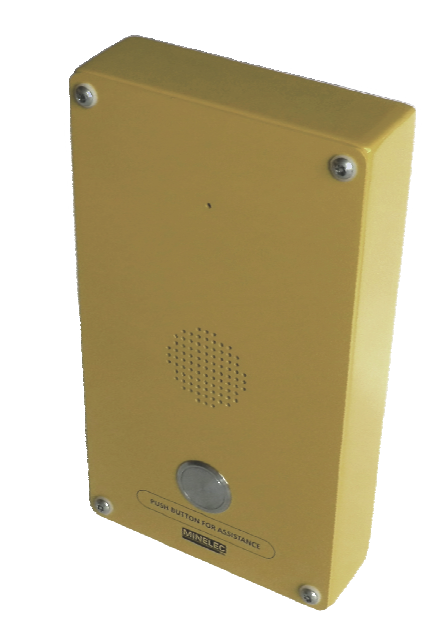 FEATURES
Aluminum back box and faceplate for superior corrosion resistance.

Industrial grade stainless steel call button
Optional customized labels and colors available to suit end user corporate standards and operational requirements.
Tamper-proof hardware.
Hands-free Operation after activation.
Compatible with Minelec Phon‐Com Commander and Minelec "head end" monitoring and display software.
All Phon‐Com units are powered from the centralized multi‐channel PhonCom Commander.
Easy to install.
Custom Colours and materials available. Call Minelec for further information.
PHYSICAL SPECIFICATIONS
Dimensions: Width 5.6" Height 10" Depth 1.875"
Power: From Phon‐Com Commander
Environmental: Temp: ‐30 ‐ +60C Humidity: 0‐90% non condensing
Operation: Loop Start
Finish: Stainless Steel Button, Powder coated enclosure in Emergency Yellow
Enclosure: Powder Coated #14 Gauge Aluminum in "Emergency yellow" (call Minelec for custom colours and materials)