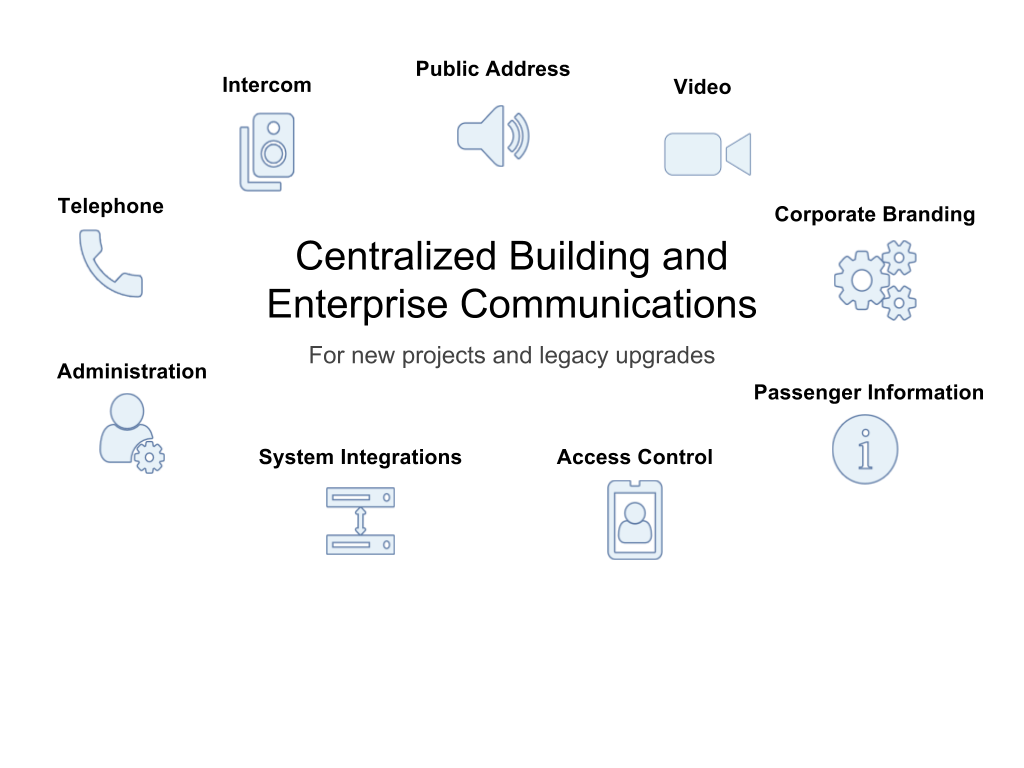 All In One Solution
Consolidate your organization's communications requirements with the Minelec IP-COM system. From emergency intercom, public address and telephone systems to standard SIP integrations, comprehensive management controls and branded customization; the Minelec system creates a powerful and robust solution for your project's requirements.
Scalable Architecture
Starting At   $9,999
Example System
Central Server with Mass Deployment
10 Intercoms
Telephony (PBX, Office and Mobile)
SIP Trunks and PSTN Gateways
Comprehensive Administration
Systems Diagnostics and Monitoring
Call Logging and Recording
Operator/Management Consoles
CCTV Integrations
Open Architecture
A software based PBX allows the solution to be fully compatible with a wide variety of 3rd party endpoints and systems. Integrations and upgrades are easily handled from a single management point and allow the system to be expanded to meet any future requirements.
SIP based software PBX
Integrate and automatically deploy with many 3rd party devices
Easy to expand through server upgrades, license additions
Centralized Approach
Manage your all of your organization's communication requirements with a single solution. Administrators will have a clear overview of all endpoints within the system along with the ability to take action by performing tests or set configurations from a central location.
Automatic mass deployment with true Plug and Play capability
Remote monitoring and tests on all system devices
Integrate Public Address, Intercom, Telephony, Video and Access control
Safety Critical
This solution combines features such as automatic failover and real-time device health information with 35 years of critically safe system design to deliver a robust system.
Designed to fully meet elevator and other safety standards
ESA certification on any complete cabinet build
Custom Solutions Available
Minelec specializes in crafting custom solutions that meet your project requirements and exceed expectations. From branded metalwork and labeling to application specific software, we have the expertise to build tailored solutions for any project.
Corporate branded Metalwork, Labeling, Signage and Software
3rd Party software integration
Legacy Cabling
Upgrade to a full featured IP solution by utilizing existing cabling within your building.  The Minelec IP-COM system avoids costs associated with overhauling communications cable in your building and provides the same complete feature set for all connected devices.