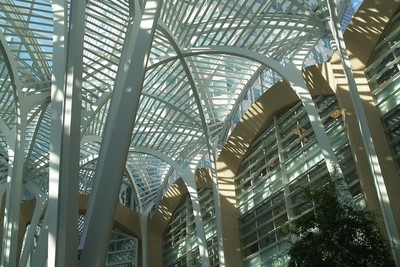 Brookfield Place (formerly BCE Place) is an office complex in downtown Toronto, Ontario, comprising the block by Yonge Street, Wellington Street West, Bay Street, and Front Street. The complex contains  2,604,866 sq ft of office space, and consists of two towers, Bay Wellington Tower and TD Canada Trust Tower, linked by the Allen Lambert Galleria.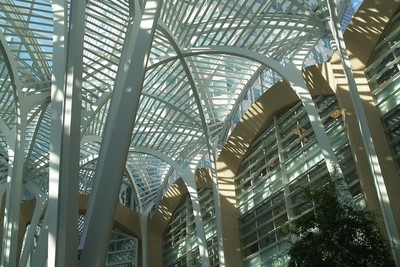 Minelec is constantly maintaining, upgrading, and designing expansions for their overall intercom system which includes several hundred intercoms and 6 different intercom sub-systems linked together to form their total solution.
Touchscreen Controlled Speakerphone for Elevator Access Communication (Clarkson-Gordon Elevator):
We designed and developed a custom communication device based on the customer's requirements.  This unit allows a user to use a touchscreen interface to select the logo of the company to initiate hands-free communication with a pre-programmed telephone system extension.  This unit is finished with a milled anodized aluminum frame, and the entire unit is flush mounted next to the elevator doors.
Parking Garage Duress Stations with Custom Mapping Display:
We supplied a custom intercom solution for the 4-level underground parking garage, designed to meet the customer's operational specifications.  Each duress station includes one hands-free intercom for emergency and information calling, along with a corresponding high-visibility strobe and an emergency alert siren.
Operation:
When a user presses the emergency call button on the duress station, the corresponding strobe and siren is activated.
The mapping display in the security office displays the location of the incoming call, as well as any description or text associated with the calling device.
Upon answering the call from the intercom station in security, the mapping display displays the incoming device in a connected state, as opposed to "calling".
When the call is answered by security, the siren is deactivated so hands-free communication can take place.
When the call is disconnected by security, the strobe deactivates, and the device is cleared from the mapping display.