Description
The Industrial M51‐691 Series Phon‐Com Zone Command Units can accommodate any combination of master/slave Phon ‐Comm units up to a maximum of 20 units. The slave units can be configured for standard operation, or to comply with current (2014) Canadian elevator codes for elevator communication applications. Any activated station is routed to the appropriate telephone line where a pre‐programmed telephone number will be dialed. When the telephone line initiates ringing, the intercoms audio circuit will be transferred to the external telephone line for hands-free communication between users.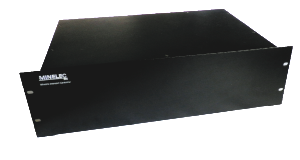 Features
Suitable for use with Phon‐Com Intercom units in eleva‐ tors, landings, parking garages or platforms etc.

19" wide standard 3U high frame assembly.

Standard Cat5/6 connectivity for remote devices.

2 x CO line connectivity.

20 Phon‐Comm station capacity.

Day/Night transfer.
Surge protection for systems wired close to high voltage sources (e.g. Electric Traction Rail.)
ASME A17.1‐2010/CSA B44‐10 compliant for elevator communication applications.
Alarms outputs for CCVE/Strobes etc.
Efficient and reliable Industrial system design utilizes natural ventilation, no requirement for fan cooling.
Physical Specification
Mechanical:
Width 19"
Height 5.25" (3U) Depth 8"
Weight 25lb
Power:
24VDC 15W
(optional battery back Up available)
Environmental:
Temp: ‐10 ‐ +50C
Humidity: 0‐90% non condensing
External Interface:
Master Slave: 20 x RJ45
CO Line 1 & 2: 1 x RJ11
Alarm 1‐20: Up to 5 x RJ45
Emergency: 1 x RJ45
Comms Failure: 1 x RJ11
Data/Future: 1 x RJ11
Serial Port: Diagnostics
Approvals
Before leaving the factory all Minelec Industrial Communication Systems undergo a double approvals process. The first step is safety approval on all the equipment contained in the Mincom Communications Cabinet. In addition, the complete cabinet including all wiring is ESA/CSA inspected and certified and is identified by a unique serial number identifier that is riveted to the completed Mincom Communications Cabinet.