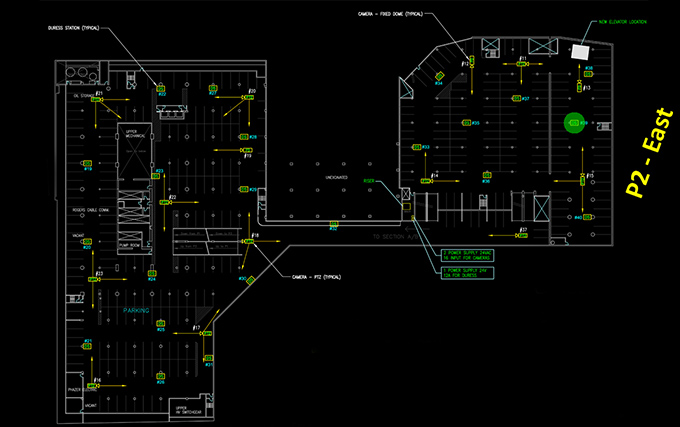 We were excited to work with 777 Bay Street Center to develop a custom intercom solution for the multi-level underground parking lot. 777 Bay Street Center is a Class "A" 30 storey office tower with a two-level retail concourse located in downtown Toronto. We were able to integrate our upgrades with the existing intercom system to drastically improve safety and communication.
We first installed an intercom system in the downtown Toronto building. Following installation, we were asked if we could come up with a unique display system to better indicate the location of an incoming call. To accomplish this task, we developed custom software which interfaced with the existing intercom system.
This new display system is able to visually identify the location of each incoming call. It can also field multiple calls at once, and display the location of more than call at a time. The status of each call is indicated with varying colors and icon fade patterns. Furthermore, the system is able to differentiate between and communicate multiple pieces information including: unanswered incoming call, call/communication in progress, idle/inactive, and fault detected.
In addition to this, the system network is expandable to any number of remote displays for additional operators. The system is also capable of communicating with the CCTV system, and triggering an appropriate CCTV display based on intercom activity.
We were happy to work with the 777 Bay Street Center to design a custom solution to fit their precise requirements.